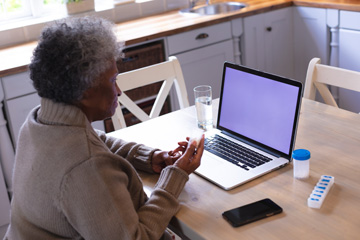 (NewsUSA)

– Choosing a Medicare plan is a big decision for eligible individuals, including those who are 65 or older or are living with a disability, because the plan you select during the Medicare Advantage and Prescription Drug Plan annual enrollment period is the plan you'll have for the coming year, with a few exceptions.Eligible individuals should take time to research plans and compare available benefits during the enrollment period — which runs from October 15 to December 7 — as there are key factors to consider based on your health needs, such as pharmacy coverage offered through a Medicare Advantage plan or stand-alone Prescription Drug Plan (PDP).For some people, stopping at a local pharmacy is a convenient option to pick up their prescriptions. However, there may be other ways to get prescriptions if you have a Medicare Advantage plan with prescription-drug coverage or a PDP that includes access to prescription drug home delivery pharmacies in the plan's network. The advantages of home delivery via mail can include the comfort of knowing you'll never run out of your prescriptions, and the convenience of having your medications mail-delivered to your doorstep.Whether you choose a Medicare Advantage plan that offers prescription drug coverage, such as Humana Medicare Advantage plans, or a PDP, check to see whether the plan includes prescription-drug home delivery pharmacies in the network and consider the following tips to help you get the most from home delivery pharmacies:
Go Online or Download the Mobile App: By utilizing your pharmacy's app or website to manage your prescriptions, you may be able to submit requests for new prescriptions and medication transfers, establish delivery times for eligible medication orders, track your medications and deliveries, and have a live chat with a pharmacy specialist –all from the convenience of your home.
Get a 90-Day Supply: Many medications will allow for a 90-day supply, resulting in fewer refills and may result in cost savings for you.
Sign-up for Auto Refills: Spend less time worrying about running out of your medications: the auto refill option, if a pharmacy offers it, will automatically deliver your next order right to your door! If auto refill is not for you, be sure to set your communication preference for refills and you may be able to receive a reminder notification.
Compare the Costs: Many plans, such as Humana, have a "switch and save" option for some medications, which provides suggestions for generic options at lower costs.
Build a Personalized Medication List: Seeing multiple doctors usually means having several medications. Use your plan's app or website to maintain a single, complete list of all your prescriptions to avoid adverse reactions.
For more information about prescription drug home delivery pharmacies, you can call 1-800-MEDICARE (800-633-4227) or go to Medicare.gov. To learn about Humana's Medicare Advantage plans, visit www.Humana.com/Medicare or call 1-800-213-5286 (TTY: 711) to speak with a licensed sales agent from 8 a.m. to 8 p.m. local time, seven days a week.Additional Information:Humana is a Medicare Advantage HMO, HMO SNP, PPO, PPO SNP and PFFS organization and a stand-alone PDP prescription drug plan with a Medicare contract. Enrollment in any Humana plan depends on contract renewal. Scott Greenwell, PharmD., is President of Humana Pharmacy Solutions, where he oversees the health plan's pharmacy solutions. He is based in Louisville, KY.