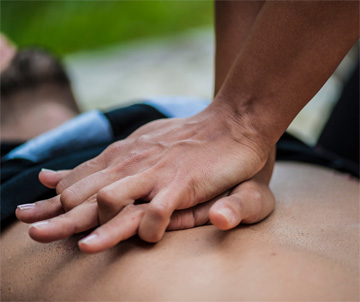 (NewsUSA)
-If you witness someone having a cardiac arrest, don't be afraid to act, especially since that person may be someone you know in a familiar setting.According to the American Heart Association, about 70 percent of cardiac arrests occur at home, but often family and friends who witness a cardiac arrest hesitate to perform potentially lifesaving cardiopulmonary resuscitation (CPR) for fear of making the situation worse."Rather than waiting for first responders to arrive, performing immediate CPR in the case of cardiac arrest can double or triple a victim's odds of survival," says Comilla Sasson, M.D. and vice president of emergency cardiovascular care at the American Heart Association. "If you are willing and able to do CPR, you should do CPR, even during this pandemic. In fact, the simple, hands-only CPR technique recommended by the American Heart Association can save lives and does not require the mouth-to-mouth contact that many people associate with CPR."World Restart a Heart Day, October 16, is a global initiative from the International Liaison Committee on Resuscitation (ILCOR) to raise awareness of the effectiveness of bystander CPR and educate more people about Hands-Only CPR. ILCOR and resuscitation councils around the world will use the hashtag #WorldRestartAHeart to link and track social media posts related to the value and effectiveness of Hands-Only CPR. If you or someone you love is a survivor, you can share your story on social media using #CPRSavedMyLife #WorldRestartAHeart.The American Heart Association's Hands-Only CPR Campaign is nationally supported by the Anthem Foundation, the philanthropic arm of Anthem, Inc."When someone experiences a cardiac arrest being able to act quickly and provide Hands-Only CPR can improve the chances of survival," says Shantanu Agrawal, MD, Chief Health Officer at Anthem, Inc. "That's why the Anthem Foundation and the American Heart Association are working together to increase access to Hands-Only CPR training in our local communities to teach this simple technique and individuals can overcome concerns so they can be empowered and comfortable to respond in an emergency."Hands-only CPR includes just two simple steps.
First, call 911.
Second, push hard and fast in the center of the chest of the individual having a cardiac arrest. How fast to push? That's easy. Push to the beat of a familiar song that has 100 to 120 beats per minute. For example, the classic disco hit, "Stayin' Alive," can help you stay on pace, but anything with a similar tempo will do.
Raising awareness about Hands-Only CPR is especially important in Black and Hispanic communities, where individuals are at least twice as likely to have a cardiac arrest outside of a hospital, according to a recent study.Visit heart.org for the most up-to-date information on heart health and World Restart a Heart Day.