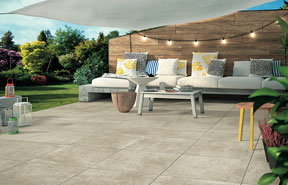 (NewsUSA)
– Sponsored News – Summer has arrived, and homeowners are ready to make the most of their outdoor spaces. Current outdoor living trends focus on several areas, including heating, lighting, dining and multilevel design, with the overall theme of creating a welcoming, relaxing environment suitable for entertaining guests or enjoying in private.
* Heat it up. Fire pits are a hot item and provide a central point for gathering guests on summer evenings before, during or after dinner. An added bonus: Wood fires can help keep the mosquitoes away.
* Light it up. The right lighting is an essential part of an enjoyable, safe and functional backyard design. Some ways to add light and set the mood for a patio party include illuminated planters, pendant lights, string bulbs and hardscape lighting.
* Split it up. Multilevel patio designs, particularly in poolscapes, add interest to an outdoor living space and offer more options for guests, and homeowners can make their spaces distinctive by choosing from a variety of designs in retaining wall blocks.
* Eat it up. No patio party is complete without food and drinks, but today's outdoor living designs allow guests and family members to take outdoor cooking and grilling to the next level. Outdoor kitchen setups let guests take part in meal preparation or just hang out with the resident chef.
Any upgrade to an outdoor living space starts with defining a vision. How will the space be used? For large parties, for outdoor cooking, for a pool? All of the above? Before beginning to renovate an outdoor living space, start by walking around the area to determine the right locations for paths, paving stones, pools or multiple levels that will be safe as well as attractive.
Once homeowners define their vision for a backyard, pool or patio area, the next steps are to consider design basics, such as colors, patterns and materials. Outdoor living design companies such as Belgard suggest creating a "mood board," a collection of colors, furniture styles and landscaping that can include photos, swatches and bookmarked URLs with design ideas.
Visit www.belgard.com for more ideas and tips for making the most of your outdoor living space.