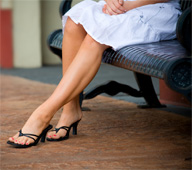 (NewsUSA) – Diamonds might be a girl's best friend, but women don't have to spend big to look like a million bucks.
Most local drug stores carry products that yield high-end results without exceeding small budgets. Look for these beauty products, which will have heads turning your way, but cost $15 or less:
– Shiny, colorful locks. Salon dye jobs or highlights can cost over $100, so who wouldn't want to extend the life of their colored locks? Use é.sen.cia by Samy Mandarin Citrus Volumizing Shampoo and Conditioner. This cleansing and conditioning duo is 100 percent vegan, natural and organic. The shampoo gently cleanses with horsetail extracts to thicken fine hair, and wheat proteins to infuse added bounce. The conditioner strengthens and protects fine, fragile hair from damage and provides weightless volume — about $10.
– Luscious lips. Organic wear 100 percent Natural Origin Lip Veil is infused with vitamins and anti-oxidants to protect, moisturize and leave lips unbelievably soft. Once you try it, you'll never go without — about $7.
– Smooth legs and trimming. According to the 2009 Schick Shave Study, 91 percent of women consider smooth, shaved legs as part of their year-round beauty routine, while 88 percent of women trim and maintain both their bikini line and bikini zone. The Schick Quattro for Women TrimStyle acts as a razor and bikini trimmer in one, helping you trim and maintain your bikini line at home. The TrimStyle has four ultra-thin blades with moisturizing strips on one end and a waterproof, battery-operated bikini trimmer on the other — about $11.
– Glowing skin. Skip the spa in favor of your local drugstore's shelf, and you'll still enjoy facial-smooth skin. Biore Even Smoother Microderm Exfoliator uses ultrafine alumina crystals to remove dead cells and make your skin glow. Shea butter and white tea extract prevent irritation — about $14.
– Soft, beautiful feet. Skip the pedicure and use Airplus Aloe-Infused Socks to noticeably soften and smooth your feet — $6 or less.
– Skin moisturizing. Formulated for dry, sensitive skin, Cetaphil Moisturizing Cream is non-greasy and fragrance-free. Even better, it can save you from buying both facial moisturizer and body lotion. The cream can be used on the face, hands, elbows, feet and knees — about $7 for a 3-ounce tube.