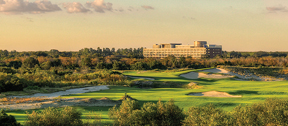 (NewsUSA)

– Sponsored News – For many people, the words "Florida vacation" conjure up images of theme parks and beaches. But head inland and away from the major cities, and you'll quickly realize that there's so much more to the Sunshine State. Cattle ranches, historic architecture, some of the nation's oldest wineries and more dot the landscape as you explore the state's interior. Streamsong Resort, located about 45 minutes southeast of Tampa, is one getaway catering to an increasing number of tourists who want to experience this other side of Florida, off the beaten path.
Once covered in prehistoric seas, Streamsong's land had a long life as the site of a phosphate mine before reclamation efforts transformed the secluded parcel into a golf resort with two of the nation's top courses. Decades of mining contributed to the land's unique characteristics, producing millions of cubic yards of sand that, over time, morphed into dramatic dunes. Here you see osprey, not seagulls, nesting in high perches; the largest body of water on the property is better suited for bass fishing instead of body surfing; and there's one palm tree on the entire 16,000 acres.
"So many guests tell us that, if they didn't know better, they would never guess they were in Florida," says Streamsong's general manager, Rich Mogensen. "Streamsong is truly like nothing else in the state."
At its core, Streamsong is a golf resort — home to the nationally acclaimed Streamsong Red and Streamsong Blue, but increasingly guests visit for other reasons. They want to test their skill on the sporting clays and archery range, set deep in the heart of the secluded property. They want to take guided fishing excursions on the resort's lakes, where largemouth bass average six pounds and often top eight. And they want to experience each of the six unique pools in the resort's grotto-style AcquaPietra spa.
"Guests choose Streamsong because they don't want the standard vacation," Mogensen says. "We deliver by giving them a memorable experience — one you can't find anywhere else."
For more information about Streamsong, visit www.streamsongresort.com or call 1-855-998-6549.